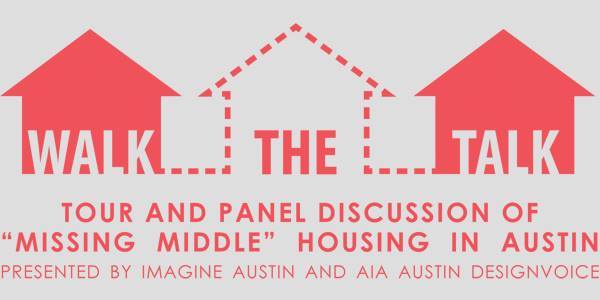 Presented by the City of Austin, Imagine Austin, and AIA Austin designvoice
Register for free:
RSVP on Facebook:
Walk the Talk—A talk and tour for people interested in learning more about "missing middle" housing in Austin.
Join us for a panel discussion and self-guided tour of "missing middle" housing types—such as duplexes, fourplexes, courtyard housing, or accessory dwelling units—in the Blackland and Cherrywood neighborhoods. Our panel members represent varied perspectives on the subject. After a Q&A session with them, participants can easily bike or walk to selected sites in the area. We welcome you to join the conversation!
Our panelists include:
Kelly Weiss—Community Wheelhouse
Tom Hatch—hatch + ulland owen architects
Lisa Byrd—African American Cultural Heritage District
Terry Mitchell—Momark Development
Jake Wegmann—University of Texas at Austin
Maps for the tour will be available at Salvage Vanguard Theatre when the panel begins. We ask that you be respectful of the neighborhood—the tour is of the exterior of the homes only, please do not disturb the residents. Our tour is laid out to allow for easy walking or biking, so please use alternative transportation wherever possible.