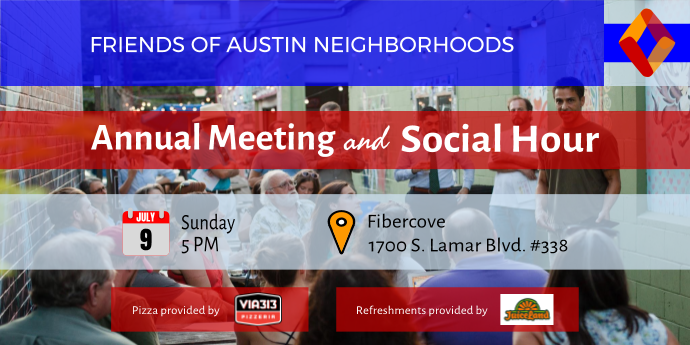 Date: Sunday, July 9
Time: 5 PM - 8 PM
Location: Fibercove at 1700 S Lamar Blvd #338, Austin, TX 78704
Join FAN for its annual meeting and social hour on Sunday, July 9, at Fibercove, to talk about CodeNEXT, and play a part in helping create the future of Austin neighborhoods. RSVP today!

Enjoy pies from Via 313 Pizza.
Stay refreshed with Peach Watermelon, Agua Fresca, and Pineapple Spinach Agua Fresca from JuiceLand. More food and drinks may be provided, but feel free to bring your own!
The program will include:
High capacity transit update - Alysha Haggerton (@alyshalynn)
South Central Waterfront Plan: a case study in neighborhood re-envisioning - Alan Holt
Neighborhoods and climate change - Jay Blazek Crossley (@jcrossley)
Renters and neighborhoods - Stephanie Trinh (@strinh)
Panel discussion moderated by Nathan Ryan (@nthnryn)
Conversation, food, and beverages with neighbors throughout the city.