I'm genuinely not sure whether I'm reading this correctly or just approaching it with bias. Since I consider you all a group of rational critical thinkers, could you help me make some sense of it? Please, please call me out if I'm totally reading this incorrectly or out of context.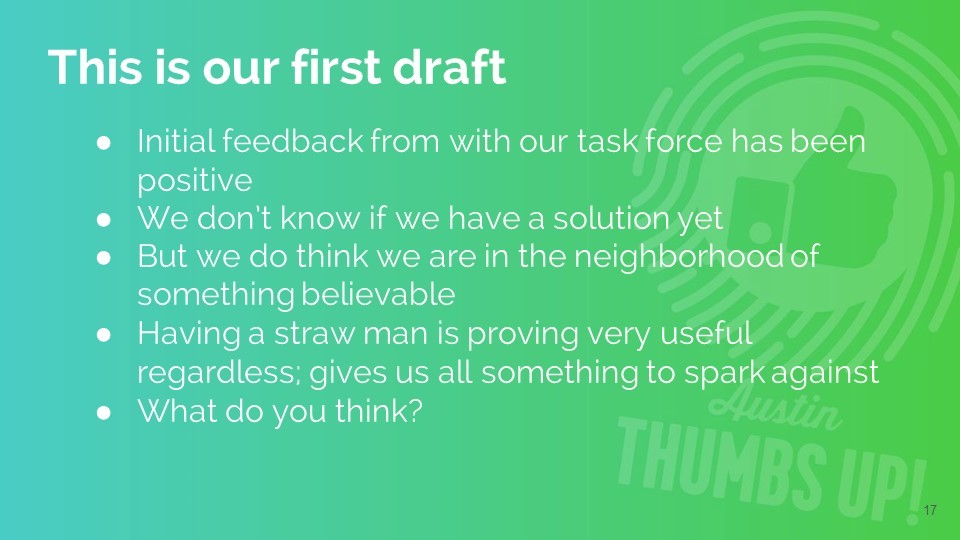 As I read it, it says that the folks collaborating on ThumbsUp don't know if they have a solution (not to mention that there's no problem…), but they think they've almost come up with something believable. And they're finding that having a straw man argument (fingerprinting increases public safety) in play has been useful because it helps unite the public around some unreal foe.
I think Grammar Girl does a great job explaining what a Straw Man Argument is. She continues to explain why politicians love them:
It can be annoyingly effective because in response you may be lured into clarifying what your position is not instead of talking about what your position is, and studies have shown that when you repeat a lie, even if you are repeating it to refute it, the repetition can reinforce the misinformation in the minds of some people. [Emphasis added.]
This link to the full presentation was posted on the City Council's Message Board by Mayor Adler last week.